The Folk Bros
Rousing and S'Real, the Folk Singers Three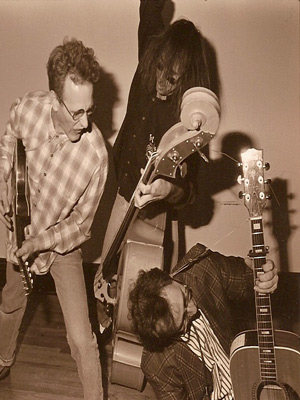 The Folk Bros. play rambunctious and vibrant music, handmade for unplugged thrashing. On guitar, mandolin, bouzouki, and acoustic bass they embrace and extend the folk tradition.
Taking their cue from Hootenanny style presentation they break folk music down to it's vital essence and inflate traditional tunes to Zeppelin-esque proportions. They may put the boot in with a topical sing-along or bring an audience to tears with an original fingerpicked ballade.
Should a booking one of modern folk music's most enduring and cranky groups be your idea of a good time, send sid@octoberday.com an email – and he'll try to roust the roustebouts…
Now stand back and give 'em lots of room to move!
Group Members:
Bruce Zeeuw – guitar/mando/zouk/vocals
Steve Aldrich – bass/banging/caterwauling
J Oscar Bittinger – guitar/vocals