Harbor Nights Concert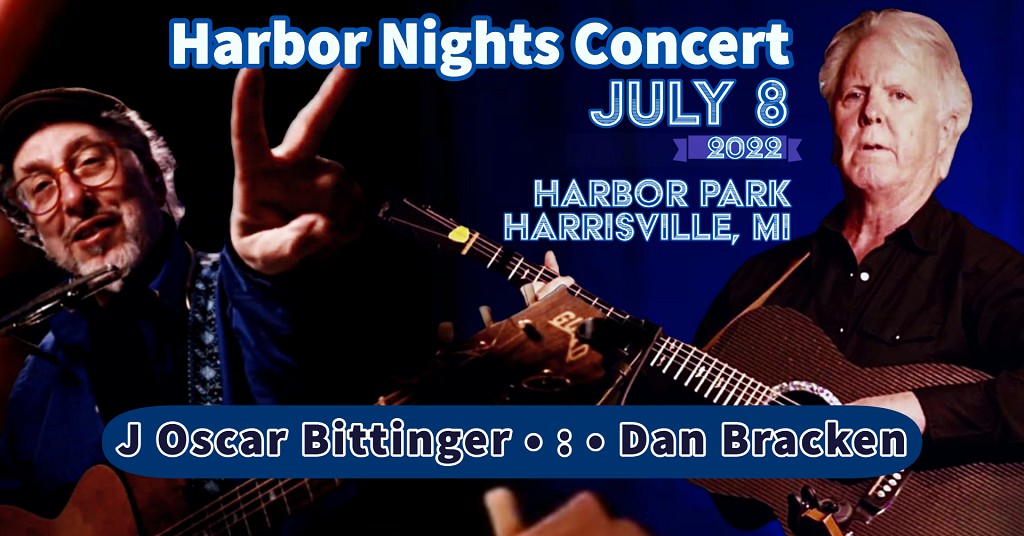 Time

(Friday) 6:30 pm - 9:00 pm
Event Details
"A pair of soulful poets!"

— Charlie Walmsley
J Oscar Bittinger and Dan Bracken swap songs and do mini-sets where stories get woven into melodies in the tradition of American and Irish folk, rock and roots music. Some sound like poems, others like fables, one or two may bring a tear and still other songs might inspire a bit of dancing.
Sponsored by Inspiration Alcona this FREE Harbor Nights Concert provides a delightful setting on the lawn at Harbor Park overlooking Harrisville harbor.
Bring a lawn chair, or a blanket, and enjoy a couple hours of original story and song (…and perhaps do some singing along).
If weather is uncooperative, the Harbor Nights show will move to the Harrisville Branch of the Alcona County Library, 312 W. Main Street.