123 Ionia Ave. SW Grand Rapids, MI 49503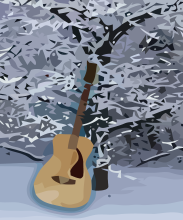 "The Concert of NEW and Traditional Songs for the Winter Holiday Season" returns!
NEW LOCATION – Studio Park's LISTENING ROOM!
Though Listening Room event page only shows info for J Oscar, ALL the following folk are performing!
AWT 2019 ARTISTS: Lexi Adams, J Oscar Bittinger, Ralston Bowles, Robin Connell, The Folk Bros (Steve Aldrich, Bruce Zeeuw, J Oscar), Hannah Rose Graves, OctoberDay (Mark Hugger & Chris Ranney), Kyle Rasche, Josh Rose, John Sanger, The Far Shore (Brant Satala & Bex), Justin "Stovepipe" Stover
Visit the A Winter's Tune website  for up-to-date news!