My Mother and Music
Eleanore Rose Dottore Bittinger gave music to my brother Roy and I.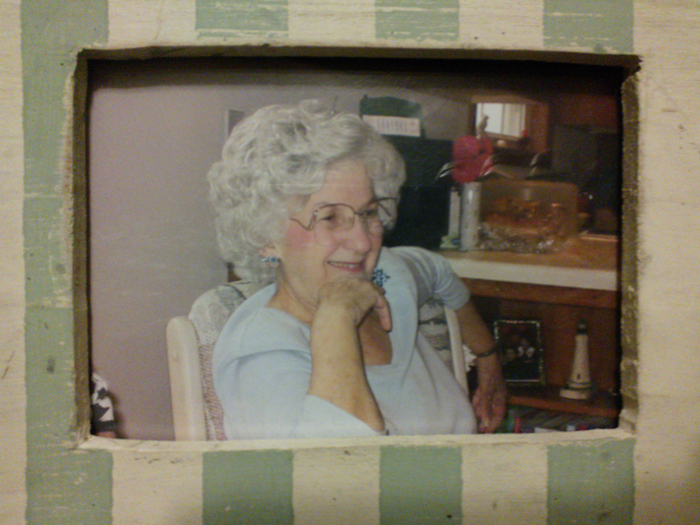 She sang to us while cooking, driving, doing laundry, when we were bathed in the oversized bathroom sink and at bedtime.
Music came to us on the kitchen radio, the console stereo, the jukebox in the Cloverleaf diner, parades, and concerts at the school auditorium. We sang together on trips, in youth groups, choirs, in the old Presby church, and eventually along to with instruments we played ourselves.
Our first instruments were bought by Eleanore – who never played one herself but enjoyed that we enjoyed them. It began with acoustic guitars from department stores, then the volume was turned up to include electric guitars, basses and amps as big as bookcases. Mandolins, fiddles and drums were brought over by others. Rock bands formed and faltered in our basement.
At the time I think she was thankful for the savings, but on a Thanksgiving visit home, there, in the "guest bedroom", sat a small electric piano. She told me she like to pick out melodies on it, but she never did so when I was there. It was eventually relegated to the basement with the other "underutilized" items, broken lamps, the exercise bike, "old" wornout books and records.
Elenore would listen from the kitchen while we strummed the songs of the day in the living room, sometimes singing along while carrying on with other missions around the house. We gave her headaches, talking relentlessly about our discoveries and enthusiasms – musicians, bands, styles, albums, clothes, magazines, movies – all bound up by the common thread of music.
The popular instrument we didn't have was a piano. Eleanore asked if I wanted one (with lessons) but I already played trumpet and baritone in school bands (as well as guitar) – so I didn't see the need.
Today, learning on my own, I would reconsider such a "flip" decision…
Eleanore confided that she had dreamed of singing with a Big Band. From what I heard, she could have. She knew sharp from flat, and liked how bluesy singers "played the difference". She sang along with Sinatra, Johnny Mathis, Matt Monroe, Sarah Vaughn, Steve and Edie, Dean Martin and a host of others (whose records are now in my garage). The duet sounded as if she belonged on the record.
She said "symphonic music" made her sad, but she loved country and blues – "story music" she called it. She was unsympathetic to "harsh and angry" music – which included Dylan, soul, and Black Sabbath (though she didn't mind Deep Purple, probably because the lead singer was in "Jesus Christ, Superstar"….). The early 1970's sound of "soft rock" was OK with her – James Taylor, Carly Simon, Simon and Garfunkle, Carol King. No matter what era it came from, if it was "smooth" and sung by "a singer that can really sing" (like Michael Bublé, Harry Connick Jr, even a bit of Van Morrison or Rod Stewart in crooning mode) – Eleanore was "there"!
My mother appreciated that I took heart in music – that it meant something to me. What concerned her was trying to "make a living from music". She was downright worried about me falling into the travails of being "an entertainer" (She had little expectation that I'd become "a rockstar"…).
When I was going though a particularly difficult period she cried out "I don't know how to help you!" And she was right. I had to do "it" myself. It was a separating moment that helped me take a different kind of responsibility for my choices. (A few years later Eleanore saw Neil Diamond – whom she loved – in his remake of "The Jazz Singer. It helped heal that bruise in our relationship; she found new appreciation for the choices I'd made and the successes, no matter how small, that came from them.)
She did like that I wrote songs– she even liked some of them. She thought there might be more of a future in songwriting (certainly more than being a "plain old poet"…) I just needed to write songs people wanted to sing. (especially if they were sung by a "singer who can really sing"….
At the time, didn't appreciate the best advice Eleanore gave me. When she paid for my first "real" guitar she said, "at least you will be able to enjoy playing and singing for yourself". And dang if she wasn't right, being able to play and sing, where and whenever IS the best gift!
So, a toast to Eleanore Rose Dottore Bittinger and all moms who sing to their children, and encourage them to find their own song, and sing it, if for no-one else but themselves.