September 2010 – Autumn Comes Early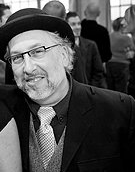 J. Oscar at Art Prize 2009 – MotleyCat Photo
As I write this the afternoon sky turns blue to cloudy and back again, such are the ways of September, as I remember. Though the air is cool, it's clear;  there's the promise of the Harvest in the air.
And ArtPrize 2010…
I was honored to return as a crew member of the main-stage recording team this past week for the 37th Wheatland Music Festival – September 10-12, 2010 – certainly the largest traditional music festival in Michigan. An annual gathering of folk music lovers, folk artisans and, folks enjoying the wild life along, as friend Dave Dever likes to say, "the human nature trail". If you've not been, you must! (I cop to being a "Wheat-ie" – Wheatland "virgin" – just 3 years ago…)
Saturday's miserable, cold, soaking rain finally broke in the early evening, a reward for all those who toughed it out. We raised a jar, sang along, stomped and danced, then song-circled till the crickets were quiet. Sunday the sun burned off most of the drench and dew early on and the party continued – there was mighty Craic, much dancing and the combined sweet sadness and relief that comes from breaking camp.
Because more folks have visited "LYRICS" than any other section of the site, they have been given their own heading (and the rest of the blarney and archives are "IN OTHER WORDS." I do believe you'll find some new songs and demo's there after the weekend of the 19th.
And pictures, we have a wee trunk of those as well. Look for them to find their way here in the next months (perhaps we'll see you in one of them…).
A proper calendar of events will also be posted as well – so EMAIL booking@octoberday.com to get your event on the wall!
Lots of work on Octoberday.com going on and bursts of recording (so we might offer new and compelling songs up as launch-time nears).
Alright, time to attend the vines while the grapes are still sweet with sunlight stored.
– J. Oscar