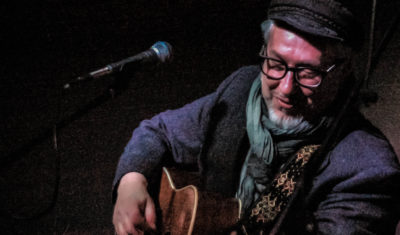 Traditional styles mix with messy modern sounds, the city smooth gets blended with the rural rough. Smart and soulful songs with an uplift – "this is happening now."Though the setting may be contemporary, in the past made present, or imagining some future, J Oscar's lyrics are poetry like that of plain spoken folk. The tales and talk are carried along on melodies that sound traditional one moment, then move to something more pop and modern the next.
Listen for new recordings by J Oscar (with band) in 2017.
Things They Say
…a far better guitar player than many folk-based songwriters – rhythmic and energetic, really filled out the songs. I'm impressed!
"I hear every single singer/songwriter I love from the early 60s….(J Oscar is) on at The Bitter End, right after Tom Paxton, and just before that kid Bobby Zimmerman. Powerful ethos of innocence and joy and well-deserved weariness."